can you feel it
MAKING ENEMIES!
Here is Nora being gleeful about a scene of destruction near my neighborhood. We watched enormous claws rip out rebar for as long as we could, without being late for school. It was totally great.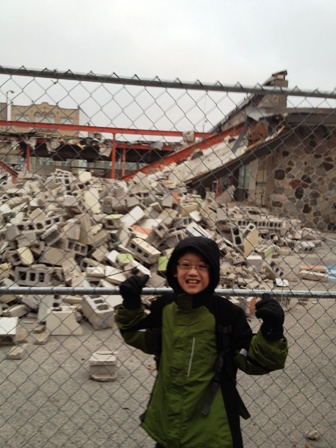 The thing being destroyed is a public library, but fear not! A new, better one is being built in its place. I am not sure when it is expected to be done, but probably by summer. This library project was hotly contested in my neighborhood, for reasons I never quite understood. Sad as it is to say, these days you should probably be thrilled that a municipality is not shuttering its libraries altogether. For weeks after the plan was announced I was constantly accosted at the train station by people with petitions and flyers—-"Did you hear they are tearing down our library?" I would always say brightly, "Yes! And building an awesome new one right in its place! Such good news!" Cue the dirty looks.
Then there were petitions about wanting a "temporary library." Where would that go? And may I remind everyone that there is another branch library 1.5 miles away? Accessible by a single public bus? A 10-minute bike ride? Or hell, even a 30-minute walk for the moderately able-bodied?
Some people are never happy. My office is moving next year. The new building is much more modern. We will have a gym, showers, tons of bike racks. But oh no the workstations will not be exactly the same! The public school day recently lengthened by 30 minutes, which meant (among other things) that most schools increased not only their instructional time but their recess, physical education, and lunch periods. But that very slightly affects my child's schedule! (We won't even get into the gripe about "MY child does not need more school." Guess what? Some kids do. Did you miss the first word in that "public school" phrase?)
And now I am griping about gripers! It must be all the Christmas spirit bubbling up inside of me. Like a terrible infected blister of holiday cheer.
MORE WALKING-TO-SCHOOL FUN
For some reason, Nora and I were talking about the social norm of keeping one's genitals covered. The phrase "private-parts department" got used.
Nora: That sounds like part of a store.

Me: It does. "Hello, Private Parts Department? I have a question about private parts."

Nora [deep voice, pretending to be on the phone]: "Well, why don't you ask your mom or dad? Or read a book?"

Me [seriously, making a Parenting Point]: Maybe some people feel like they can't talk about that with their parents.

Nora: Why not?

Me: I don't know, maybe their parent doesn't like talking about it.

Nora: Well, everyone has private parts. Those kids should just say, "HELLO, Mom, you have private parts too. It's, like, biological. Deal with it."

Me [diplomatic]: Wow, maybe the kid could find a less-rude way to say that. But you're right.

Nora: It's okay to be a little rude if it's the truth.
Debatable, but okay. Biological. Deal with it.
Other things we have talked about recently on the morning walk: car insurance and how it works, the esophagus, why Christmas is in the winter (hint: pagans!), who invented hockey, legal working age and child labor law, and whether, if there were a machine that could duplicate you atom by atom, you would have the same mind and thoughts. (Me: yes; her: no. I was a bit disappointed to not be raising a pure materialist.)
BAD HOLIDAY AIM
Target: no. Just no. Where are we, Japan? (Aaaaaand that's the reason for the season. Bukkake jokes. I think we're done here.)
—mimi smartypants brought you some figgy pudding.