encased in a mesh bag
THINGS MY DAUGHTER SAID WHILE STUDYING A DISCARDED POSTCARD ADVERTISING A CHICAGO STRIP CLUB, YES, IN FULL COLOR, THAT WAS LYING IN THE BUS-STOP SLUSH
"Delivering Hot Buns Until 6 AM? What does that mean? Who wants hot buns? Pork buns? From Chinatown?…Oh wait, do they mean butts? [laughter] How can you deliver a butt?"

"Ha ha look, she's trying to cover up her breasts! But they are way too big! [leans in for a closer look] She covered up the nipples, though."
"It's kind of weird to wear underpants and shoes. Don't you think? Don't you think, mommy?"
During all of the above, which seemed to take HOURS, what was I doing? Mostly trying to be really boring, with lots of mmm-hmmms and trying-for-casual changes of subject. I knew that if I made a big hairy deal of not scrutinizing the strip-club ad, Nora would want to know why, and then we'd have to talk about why in the world strip clubs exist, and patriarchy and the male gaze, and sex work in general. I thought that would be a little much for a before-school chat.
FREAKING GOOD
Peanut butter Larabars. There was a recall last year about the peanut thing, but it's long over and now I'm back to snacking. These seem to keep you full longer than most energy-bar things. They can even stand in for lunch on my busiest workdays, with a beverage and a side order of extreme annoyance.
FREAKING, NOT SO GOOD
During an uncharacteristic come-undone after a hard day at school, Nora tearfully and screamfully claimed that I never listen to her. NEVER. I NEVER LISTEN. At least I think that's what she said, who knows? I never listen. Does that kid even talk?
I don't know why I find this so funny-sad, but I do. It was her first use of teenage absolutes that I can remember. Not just "you're not listening to me" but "you NEVER listen." Never! I never listen! Not ever! Given the context of that "discussion," however, it seems that "you never listen to me" really meant "you don't always do what I want." Guilty as charged, sweetie pie.
GROWING UP GEEK
Nora recently read her first fantasy book that had invented words for bits of the invented world. Do you know what I mean?
The young shepherd Xanax was herding the groggins down to the river Ambien. The groggins were lowing excitedly in their eagerness to get to the fresh cool water. "Hurry up and drink," Xanax said, "I've still got to milk the lot of you."
I totally made that up, but you get the idea. From context you know that groggins are some sort of herd animal on Planet Thorazine or whatever. Nora found this very intriguing, even though she had trouble expressing it and ended up having to show me the book. And even though science fiction is not my thing, I felt proud because it seems like a milestone in her literary education.
God, I'm such a book nerd. Here's the little reading freak, with a cat on her butt. Hot (cat-warmed) buns until 6 am!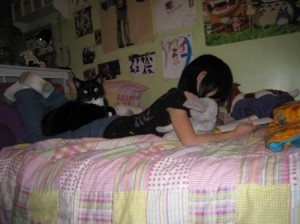 —mimi smartypants is like a broken clock.